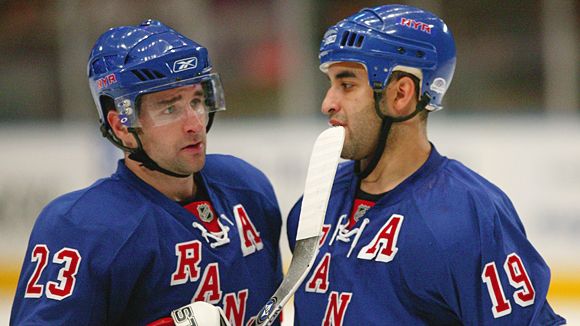 Second night of the season and we're in for another good one! Here are some quick predictions for tonight.

Professor Prax's Win Prediction record: 4-0 (that's right)
Professor prax's Score Prediction record: 0-4 (Although I was close on a few)

Florida Panthers vs New York Rangers
Two teams that look completely different from the teams that ended the season last year open their campaigns tonight in New York. The Rangers go into this game with almost-Vezina-quality goaltending and a much improved offensive squad (not that it was that bad last season), but iffy and unproven goaltending. Florida, on the other hand, goes into this game with a goaltender with something to prove, an solid defensive squad but a fairly weak offensive unit.
Prediction: 5-3 Rangers, Goals from Drury (2), Jagr (3).

Toronto Maple Leafs vs. Ottawa Senators
Still waiting for that blowout rout...
Prediction: 7-2 Ottawa (Go Heatfredsspezza... that's right I just made that up)

New Jersey Devils vs. Tampa Bay Lightning
TRAAAAAAAAAAAAAAP.
Prediction: 2-1 Devils (Do I really need to predict goalscorers? We all know that all that matters is Brodeur).

Colorado Avalance vs. Nashville Predators
Colorado's coming of a big win last night. But they're going to be tired, and they're going to Have to play Theodore. Nashville, on the other hand, is a much weaker team than last year and might have other things (sale of the team) on their minds. I predict a high scoring game.
Prediction: 6-5 Nashville, Goals from everyone. Can Stastny follow up on last night's performance?

Chicago Blackhawks vs. Minnesota Wild
A fresh young Blackhawks squad looks to start of the season with a bang, while Minnesota looks to prove their a playoff team in the Northwest. Should be an exciting contest.
Prediction: 3-2 Blackhawks, goals from Kane, Havlat (2), Sergei Samsonov DOESN'T score (bold prediction, I know :O).

San Jose Sharks vs. Edmonton Oilers
The Ball is Evgeny Nabokov's court now for the Sharks. They have a solid offensive unit but they'll be missing Scott Hannan's consistency on the blueline. And Nabokov doesn't have it easy in his first game tonight, as he faces Sheldon Souray's rocket. Edmonton has a lot to prove this season, will they be able to start off on a positive note?
Prediction: 4-1 Sharks, goals from Joe Thorton (rare one, don't expect me to predict this again), Cheechoo, Pavelski (2), someone's head gets knocked off by a Souray shot.

Philadelphia Flyers vs. Calgary Flames
An interesting season opener for both teams. Will Briere live up to his 10 million dollar hype? Will this new and improved Flyers squad survive the great crowd in the Saddledome? And where have the Flames been since April anyway?
Prediction: 6-4 Flames, goals from mostly Langkow and Gagne.

St. Louis Blues vs. Phoenix Coyotes
I'm going to come out and say this right off the bat, I'm a believer in the Blues this season, I think they'll make the playoffs. As for the Yotes... they still suck.
Prediction: 3-0 Blues, goals from... well is anyone really going to watch this game anyway?


Enjoy the games tonight folks, keep an eye out on the Battle of Ontario in Ottawa as well of the Flyers/Flames. Two potential Games of the night right there,.