Last offseason, the Blue Jackets turned some heads by trading away starter Marc Denis to Tampa Bay, and announcing that they would be going with Pascal Leclaire as their full time stater. Leclaire, who was unproven and injury prone up to then, did what he did best with the role. He got injured and didn't prove himself. He ended up only playing 24 games, and posted a miserable record of 6-15-2. Hopefully this year he can turn it around
and live up to his potential, right? Well Fredrik Norrena doesn't hope so. He was the starter when Leclaire was hurt, and played very well considering he didn't have the leagues greatest defense in front of him. He actually posted a winning record of 24-23-3 on a team that finished 33-42-7. You can't use the goalie's record to make assumptions about his play though, that's why you have to see that Norrena also had a .904 save percentage, and a GAA of 2.78. He was certainly one of the unsung heroes of last season, and I believe that Norrena should be the starter this season in Columbus, but since Leclaire is a lot younger, and has more potential, they would like to give him another shot. It's tough to argue against that type of reasoning.



Tomas Popperle was the starter in Syracuse of the AHL last season, and got called up when Leclaire got hurt, to back Norrena up. He only got into 2 games, but showed that he can handle the tempo. He had a good season in Syracuse, putting up respectable numbers, and is worthy of another recall, if it's required. Daniel Lacosta was the back-up to Popperle in Syracuse, but only played in 19 games. He requires some work in order to someday even be an AHL starter, but he is still young, and there is lots of time to get things worked out. The Jacket's main prospect is a young stud by the name of Steve Mason. Some may recognize that name because he was the goalie who started game one of the Canada/Russia Super Series which is currently going on. He stopped 40 of 42 shots that game, and got the win, but had some shaky moments. He is very big for his age, and posted solid numbers in London of the OHL last season. He had a good team in front of him, that's why I'm not sold on him, but from what I saw in the Canada/Russia game, he can handle the load of a game with a high amount of shots. He has some work to do, but he has the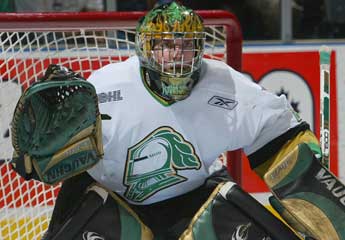 fundamentals to be a very good goalie in the future. Look for Fredrik Norrena to press Pascal Leclaire for the starting role opening day in training camp, but Leclaire definitely has the advantage because of his age.