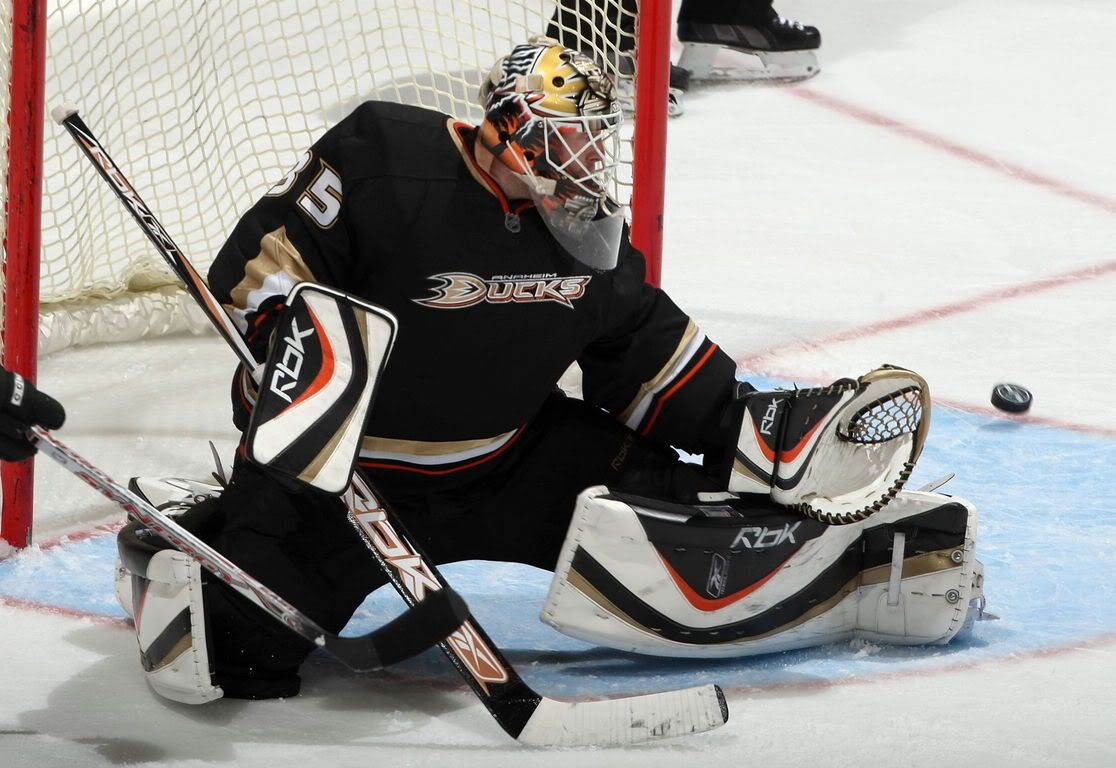 Anaheim had yet another somewhat successful season in 2007-2008, winning 47 games, but the loss in the first round to the Dallas Stars must disappoint them. They did not get affected by any "Stanley Cup hangover" which was good, but they also did not get the result they were looking for. Brain Burke has one thing he can relax about this off-season, and that's his goaltending situation. J-S Giguere had fantastic year posting a 2.12 goals against average, and a .922 save percentage. Those are his best statistics in the post-lockout era. Giguere is right in the middle of his prime at 31 years-of-age, and still has some great seasons ahead of him. Some goalies hit their prime later than skaters, and since it took Giguere years to work his way through the minors, his best may be yet to come. Anaheim can rely on Giguere's steadiness until his contract expires in 2011. He is a top-tier goaltender, and will likely continue his successes into next season. Ilya Bryzgalov was sent to the waiver wire in order to make room for Jonas Hiller, who fits the backup role nicely. The facts that Bryzgalov was too good to be used as a backup to Giguere, and that they had a capable backup in Hiller waiting in the wings led to Bryzgalov's demise in Anaheim. Hiller is good at starting once or twice a month. You know what you are getting with him, and can expect that each time out. That's a tough skill to find, but Anaheim has found one in the young Swiss netminder.


American goalie Mike McKenna saw most of the action in Portland last season, and will likely do the same this year in Iowa, since the Ducks changed their affiliation. (Side note: who names a team the "Chops"?) The younger Jean-Phillippe Levasseur may give McKenna a run for his money, but they will likely end up splitting time in a 70/30 fashion. Although inconsistent so far at the professional level, Levasseur has talent unmatched by anyone else in the Ducks' minor league system. With Giguere locked up on the big team, look for Anaheim to take their time with Levasseur, if not eventually trade him.


Further down the depth chart we see Bobby Goepfert who spent his first year out of college with the Augusta Linx of the ECHL last season. He did not see as much action as he probably would have liked, mainly because he was splitting time with J-P Levasseur, but impressed when called upon. Goepfert plays an all-out style of goaltending, and has great reflexes and reactions. He should be given the reigns in Augusta, and is hopeful of a call up to Iowa if he plays well enough.


On the European side of things, Anaheim has two noteworthy goalies. Mattias Modig and Sebastian Stefaniszin. Mattias Modig, drafted in the 4th round in 2007, had a slow year appearing in 47 games for Lulea HF of the Swedish Elite League. He posted an undeniably bad 3.53 G.A.A, and hopes to bounce back next year, or else he may see his shot at coming over to North America fade. Sebastian Stefaniszin had an absolutely terrible season, playing in only 19 games all year, and in 9 games with Iserlohn of the Deutsche Eishockey Liga of Germany he posted a 4.50 G.A.A, with a 0.881 save percentage. He'll need to really bounce back in order to bring his status in the organization up.

Overall, Anaheim is set in net. They have nothing to worry about unless Giguere has some kind of disastrous injury (knock on wood) that knocks him out of the equation. Keep up the good work, Giggy!