First off, I would like to thank EggShmeg for inviting me to write for this site. I hope everybody enjoys reading what's on my mind. I'll be on "vacation". I would just like to introduce myself now and i hope to talk to you all later.

Some of you may know me as Rags2Riches from hockeybuzz.com. If you have already read my story there, I apologize for putting it up again but I cannot think of any other way to represent who I am. The following article is a description of my journey as a Ranger fan in my short 15 year life from my first-hand perspective.

I was born in September of 1991, a first child to my parents. My father is a lifelong, die-hard, former season ticket holder, Islanders fan who grew up 20 minutes away from the Nassau Coliseum, or as I like to call it, the Mausoleum.

He saw the glory days of the Islanders in the early 80s, the years of Bossy, Trottier and the hated Potvin. My mother is disinterested in sports and, like many mothers and wives, is puzzled by the obsession the my father and I have regarding sports. Nonetheless, my father quickly trained me to love the game of hockey and....gasp...the Islanders.

In the first 5 years of my life, I was taught all about the Islanders. I loved hockey, a sport that has been my favorite for all of my life. My father has pictures of me sitting on an ice-skating rink wearing an Islanders jersey. I have many-a-time begged him to destroy the photos but he refused and keeps them to remember the days when we shared fandom. I loved hockey and I knew that the Islanders is what hockey is all about. But it was in my nature to differ from my father in sports teams, myself being a Jets, Yankees and Rangers fan; he, a (football) Giants, Dodgers and Islanders fan. Something would change.

I was put in a situation where I was able to see the light and become a Rangers fan, much to the disappointment of my father. I was two years old when the Rangers won the Stanley Cup in the spring of 1994. My father made a decision to wake me up from my peaceful slumber to watch the final minutes of Game 7 of the Cup Finals because after all, it was a New York team, albeit the hated Rangers. And I saw Craig McTavish win the faceoff with less than 2 seconds to go. And I saw Messier take the Cup with that insane grin pasted on his face.

Although I have no recollection of that night, I am sure that it subconsciously sent me on my way to becoming a Rangers fan.

Location also played a role in my journey. You see, I was born and raised in Manhattan, or as it is more commonly known: New York, New York. I live just a fifteen minute train ride from Madison Square Garden, home of my beloved Rangers. And so, the first hockey game that I attended was in that great building as a five year old kid. I only went to Islanders games, but living much closer to the Garden than to the Island, it only made sense to go to the world's most famous arena to watch them. I was confused by the anti-Islander atmosphere and was pulled along by the crowd to cheer for the Rangers. My five year old brain could not think of anything to do but cheer for both teams, to go along with my father and with the other 15,000 fans in the building.

As I grew older, when I was seven or eight, I realized that I could not cheer for both teams or for the Penguins, my adopted team that I enjoyed watching. I had to choose a team to become a real fan. Until then, hockey was a game, fun to watch, fun to play. But when it became a war where fans were emotionally invested in a team, and lived and died with every win and loss, I could not remain sitting on the fence. What really swung my decision was when I found out that a couple of my fathers friends had Rangers season skybox tickets. So when a seven year old kid approached them and asked for two tickets to a game, they could not refuse. And that season, I believe it was the 1998-99 season, I went to my first Ranger game in which the Islanders or Penguins were not playing. And the Garden atmosphere along with Leetch, Richter and Gretzky made my decision for me.

I would be a Ranger fan.

The interesting part is that all the fifteen or so Ranger games I went to before the lockout all ended in ties or losses with the exception of a Rangers-Leafs game which I left after the second period. I had seen the Rangers shutout twice at the hands of Dom Hasek and the Sabres as well as countless ties with the Isles and Pens. So when I heard that the lockout ended in the summer of 2005, I decided to get to as many Ranger games as possible. After watching two losses in 2005-06, I was desperate to see a legitimate Ranger win. I managed to secure tickets to only 3 games this past season thanks to my rigorous private high school schedule of 8AM to 9PM on weekdays and 8AM to 3PM on Sundays. After seeing the Rangers lose to Philly early in the year and blow a 3 goal lead against the Wings, I was ready for another disappointment as they trailed the Islanders 1-0 heading into the third period. DiPietro stopped over 50 shots in the game, much to the delight of my father who came to the game with me. But 27 seconds into the third, DiPietro made a kick save on a Cullen shot and I watched from a perfect angle as Prucha fired the rebound past the sprawling goalie to tie it up.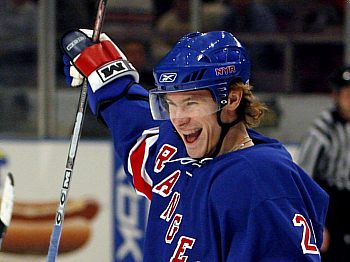 And when Cullen (I'll miss you) scored the only goal in shootout, I sang "Sweet Caroline" as my father watched with a smile on his face. Because he knew that it was a first for me and he knows that there are bigger things in life than hockey.
So now I have built on my hockey fandom, brainwashing my four year old brother into being a Ranger fan despite my father's futile attempts to make him an Isles fan. And now I am writing and reading blogs almost every day on many different sites. So all is good with me as I prepare for a Rangers cup run. And I am ready to watch, listen and breathe Rangers hockey in 2007-08. Hope to see you all along the way.

KingHank30